Manufacturing employment peaked in the U.S. in June 1979. After rebounding for several years after the last recession, the sector shed another 45,000 jobs in 2016, according to the employment report released today.
But there is a manufacturing industry that added jobs in 2016. And while it's not quite at its all-time peak, employment in this industry is a lot higher than it was in the 1970s. It also involves poorly paid, unpleasant work that you may not think of as manufacturing.
Guessed it yet? It's animal slaughtering and meat processing, which employed an estimated 495,300 Americans in November (jobs numbers for many industries are reported with a one-month lag), seasonally adjusted, up from 488,600 the year before.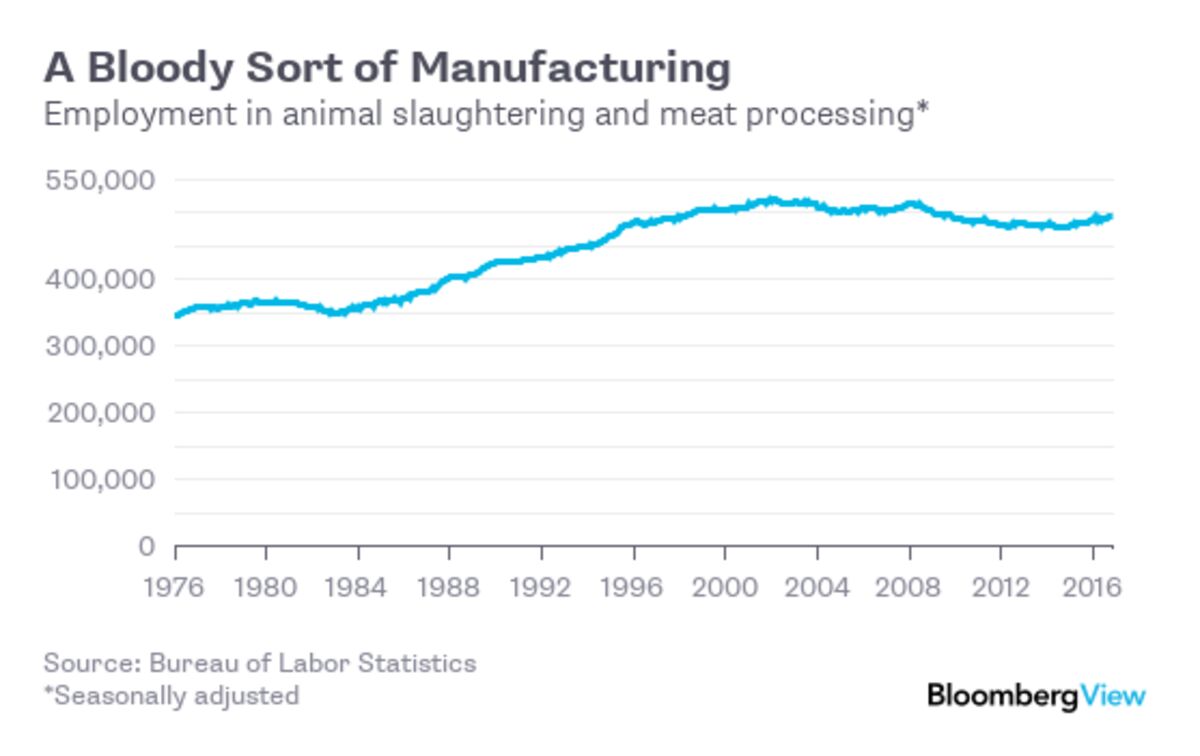 Back in June 1979, animal slaughtering and meat processing represented 1.9 percent of total U.S. manufacturing employment. Now it's 4 percent. The industry employs more than twice as many people as does motor vehicle manufacturing, which gets a lot more attention from politicians and the news media. The workers are paid about half as much as motor vehicle makers (among production and non-supervisory workers, they averaged $14.72 an hour in November compared with $29.33 for motor vehicle workers), and they often labor under deplorable conditions. A lot of them are recent immigrants, and they're mostly scattered across the country far from the centers of power and wealth. 
Low pay, poor working conditions and a high percentage of recent-immigrant workers are nothing new for slaughterhouses. Decentralization is, though (at least if you define "new" pretty expansively). From the Civil War through the 1920s, the industry was headquartered on the South Side of Chicago, where trainloads of cattle and hogs came in and trainloads of steaks, hams and such went back out. It was one of the first modern, assembly-line manufacturing industries, led by two of the great 19th-century business titans, Philip Armour and Gustavus Swift. I'm in Chicago right now and have been reading about Armour and Swift, which is what inspired me to look into slaughterhouse employment for my monthly off-kilter examination of the jobs report.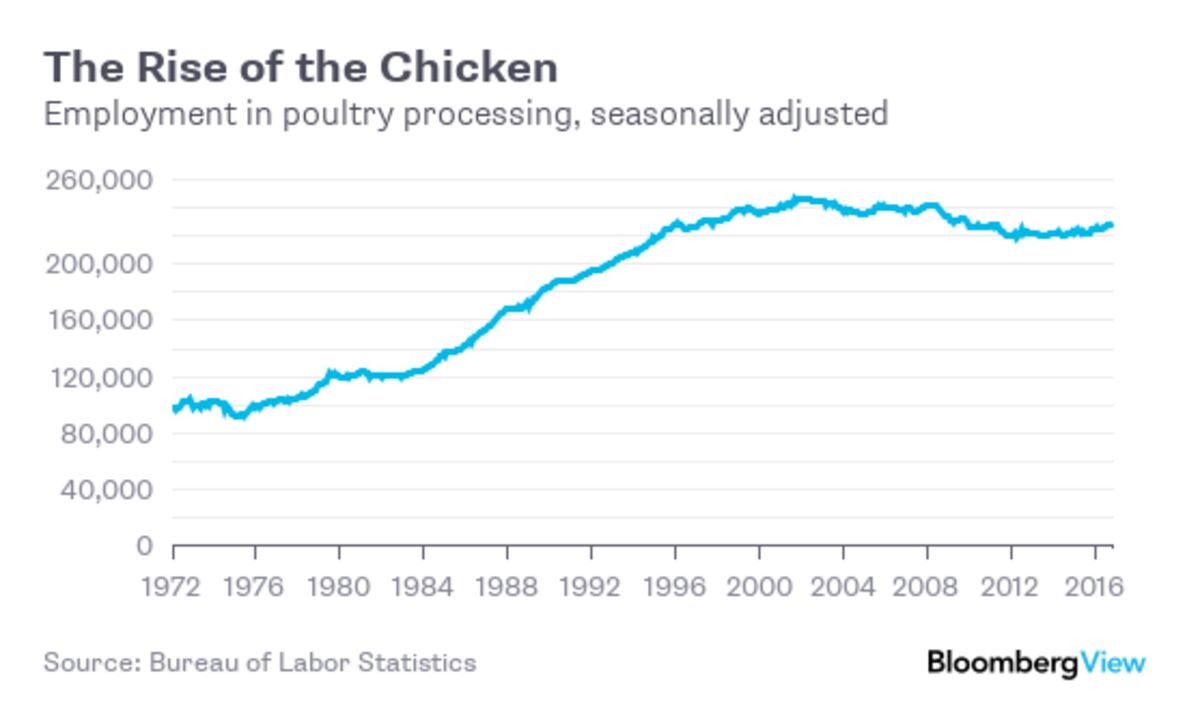 As a result of both the decentralization of beef and pork processing and the rise of the chicken, the geography of animal slaughtering and processing employment in the U.S. now looks like this (these numbers are from the Quarterly Census of Employment and Wages; the most recent data available is from June):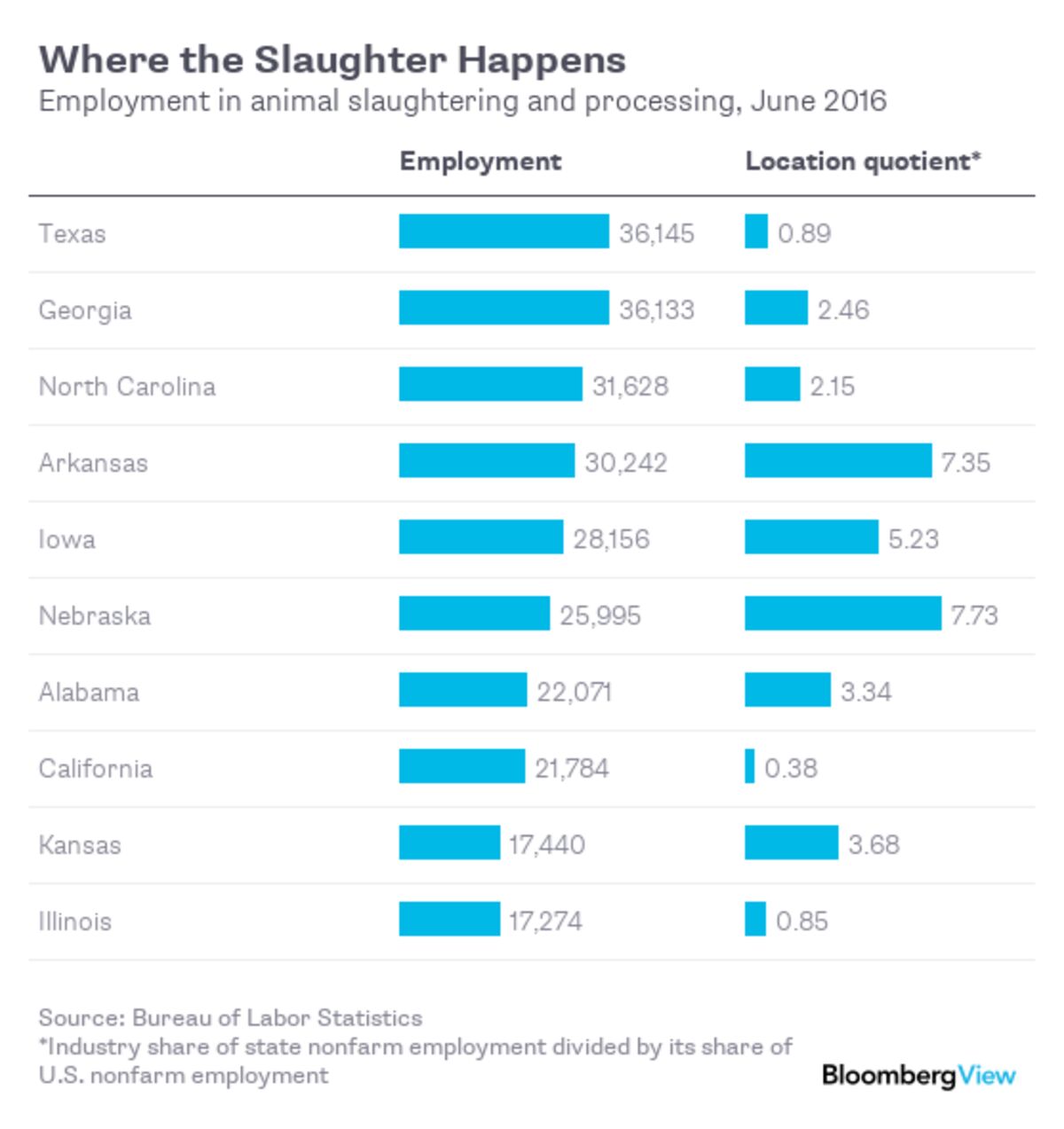 The location quotient measures the industry's relative importance to a state. The number means that Nebraskan workers, for example, are 7.73 times more likely to be employed in animal slaughtering and processing than American workers in general are. Three states with high location quotients that didn't make this list because they aren't very populous are Delaware (5.32), Mississippi (4.36) and South Dakota (3.92).

So ... there you have it. I'll be honest: I have no grand conclusion here; I was just curious. I was tempted to say that all this is evidence that manufacturing jobs aren't necessarily good jobs, but in a lot of the places where animal slaughtering and meat processing is done, it provides better work than whatever else is available. I was also tempted to say that it's a manufacturing industry where workers are unlikely to be replaced with robots, but that's not necessarily true. In any case, it is one of the oldest industries and, until we all turn vegetarian, it's not going away.
This column does not necessarily reflect the opinion of the editorial board or Bloomberg LP and its owners.
Justin Fox is a Bloomberg View columnist. He was the editorial director of Harvard Business Review and wrote for Time, Fortune and American Banker. He is the author of "The Myth of the Rational Market."
Motor vehicle manufacturing of course creates lots of other jobs in parts plants, steel and aluminum mills, dealerships, and so on. Animal slaughtering and processing creates lots of related jobs, too, though.

There were several newspaper articles about a decade ago about the looming closing of the "last major slaughterhouse in Chicago," Chiappetti Veal and Lamb. Chiappetti lives on as a subsidiary of Strauss Brands Inc., which is based in Wisconsin, while its old Chicago stockyards location is occupied by Barkaat Foods, where an imals "are Hand slaughtered by Muslims which accommodates universal Zabiha standards." Want a "virtual tour"?

No, I don't know why the Bureau of Labor Statistics has data on poultry processing employment going back to while the numbers for the overall animal slaughtering and processing industry only go back to But I figured I should use all the numbers available to me.

What's with Delaware? Sussex County, at the southern end of the state, is the birthplace of the broiler chicken industry